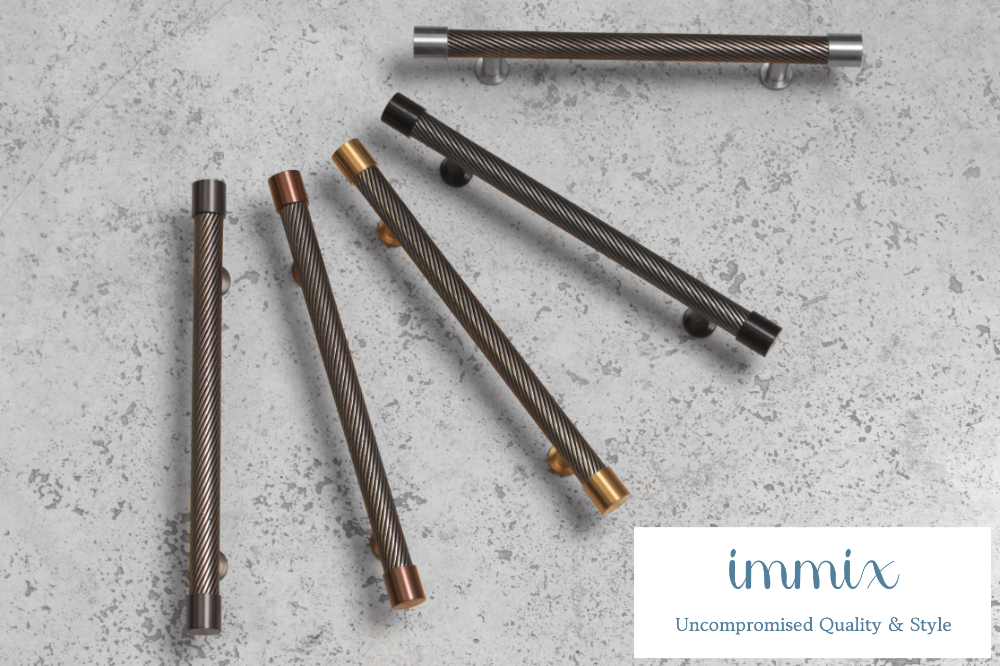 Immix Collection by Finesse Design from Price & Oliver
The Immix Collection by Finesse Design combines traditional craftsmanship and modern precision engineering to create an exclusive range of cupboard door handles. Featuring a unique combination of fine English pewter and stainless steel components, the Immix Collection introduces 5 stunning new finishes which beautifully highlight the natural, warm tones of pewter.
Products
Handmade in the UK, the Immix Collection includes a range of pull handles, t-pulls, cabinet knobs and cup handles in a number of stunning finishes and distinctive textures. All Immix handles are complementary in design and can be combined whilst still maintaining a harmonious feel in the home.
The Immix t-pull and cupboard knob have been designed with an optional anti-rotation mechanism. This unique and innovative feature prevents the product from turning once installed, allowing the t-pull to retain its horizontal or vertical position and maintaining the preferred direction of the design on the cupboard knob.

Finishes
Immix offers a premium collection of pewter cupboard handles available in 5 stunning finishes – natural stainless steel, true black, antique gold, bronze and graphite. Each finish beautifully highlights and contrasts the warm, charming tones of natural pewter. Finished using a hardwearing PVD coating, the immix collection offers excellent corrosion resistance and UV protection.

Stainless Steel offers a natural, satin finish which is ideal for all types of décor schemes in the home. This finish beautifully complements the pewter elements within the handle to create a unique design.
True Black is an extremely durable PVD finish with a satin appearance. This finish creates a striking contrast with the pewter elements and looks stunning when paired with light cupboard doors.
The satin Antique Gold PVD finish is extremely robust and hardwearing. This finish looks great when paired with dark cupboard doors, such as navy blue and black.
The Bronze PVD finish looks great when paired with both light and dark cupboards. The finish features warm brown undertones with a satin appearance.
The Graphite PVD finish oozes luxury. Features cool grey tones with a subtle sheen, this stylish finish is ideally suited to modern homes.
Designs
The Immix Collection introduces three distinctive detailing textures which have been hand-cast into pewter by Finesse's extremely skilled team of artisans and craftsmen to create a design full of character and elegance.